The Television Series
hosted by Andrew Barbano
2002 Archive and Program Notes











Rail City Profile
The Daily Sparks Tribune brings you more than you ever needed to know about its Barbwire man.






Deciding Factors 3: Three things in Nevada which most need fixing




Read Nevada
by
Jon Christensen
Photography by
Deon & Trish Reynolds


MARCH GUESTS

Phillip I. Earl
Curator Emeritus
Nevada Historical Society

Jon Christensen
writer and reporter
Great Basin News





NEW: Jon Christensen in the 12-23-2007 New York Times
Free registration may be required.

NEW ON THE WEB — Nevada Writers and Authors. Nominations for listings welcome.



AIRDATES AND TIMES

KRXI TV-11 (FOX)
3-24-02, Sunday, 8:30 a.m. PST
3-25-02, Monday, 12:30 a.m PST







KAME TV-21 (UPN)
(NW Nevada Charter Cable Channel 7)
3-24-02, Sunday, 12 noon PST
3-26-02, Tuesday, 1:30 a.m. PST

Additional stations and airdates will be announced at this website and in
Barbwire by Barbano in the Sunday Daily Sparks Tribune.


STATIONS: Every half-hour installment will air twice each on the northern Nevada FOX and UPN network affiliates, KRXI TV-11 and KAME TV-21 (Reno-Sparks-Carson-Tahoe Charter Cable channels 11 and 7, respectively).




Nevada Consumer Advocate Timothy Hay addresses a packed house at Mendive Middle School in Sparks on Feb. 4. Sierra Pacific CEO Jeff Ceccarelli also attended. Relations have since substantially soured. See the Energy Crisis War Room for blow-by-blow.

THE FEBRUARY EDITION

Sierra Pacific/Nevada Power has asked for the largest rate increases in state history, well over $1 billion statewide.

Nevada Consumer Advocate Timothy Hay joined Andrew Barbano in the middle of a cold winter in which ratepayer bills have doubled and tripled.

SPP/NP executives Walter Higgins and Jeff Ceccarelli turned down requests to appear.

DEFEND YOURSELF

Sign the consumer protest petition.

Watch the Nevada Energy Crisis War Room for the latest.





HIGHLIGHTS OF THE PREMIERE EDITION — Judge Mills Lane on former New York City Mayor Rudolph Giuliani. Former referee Mills Lane on banning Mike Tyson.

THE ISSUES: The impact of international terrorism on the U.S. Constitution, the Bill of Rights and due process of law. Bringing it down to the street level — how it impacts local citizens.

GUESTS: Former Washoe District Judge Mills Lane and Reno-Sparks NAACP President Lonnie Feemster.

FROM THE SUNDAY 1-13-2002 DAILY SPARKS TRIBUNE
Former Washoe County District Attorney and District Court Judge Mills Lane will be among the inaugural guests on Deciding Factors hosted by Andrew Barbano. A native of Georgia, Lane was a Golden Gloves and collegiate (University of Nevada-Reno) boxing champion before joining the U.S. Marines. As a professional boxing referee, he officiated at almost 100 world championship bouts. His most famous decision came when he disqualified heavyweight Mike Tyson for biting Evander Holyfield's ear. His television program aired three years in national syndication. Re-runs are still cablecast on The National Network (TNN). He now practices law and promotes boxing matches.

Judge Lane will be joined by Reno-Sparks NAACP President Lonnie Feemster. A member of a legendary family of community activists, Feemster has turned the Reno-Sparks organization into a national award-winning affiliate two years in succession. He retired as an executive with Sierra Pacfic Resources and now operates a real estate practice. His wife, Debbie, is principal of Hug High School in Reno.

The U.S. Dept. of Justice has been asked to provide a representative, but all such requests are handled through Washington, DC. Attorney General Ashcroft has not returned our calls but his staff has.

Please send any questions you would like addressed. Letters, suggestions, comments and criticisms will be posted at this website.
We also want your ideas for future programming. Here are a few guidelines.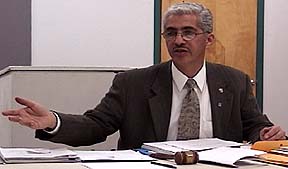 LONNIE FEEMSTER, President
NAACP Reno-Sparks Branch
1. THINK BIG. Suggest new ways to present big issues which affect a lot of people. Fresh approaches on gun control, abortion or nuclear waste are pretty hard to come by, thus diminishing the chances of a program on those emotional pushbuttons.

2. LOOK UNDER ROCKS. The High Desert Outback of the American Dream is rich in potential stories which the mainstream media ignore until disaster strikes. The recent spate of industrial plant explosions around the state provides a perfect example.

3. BRING THE CHILDREN. As the project progresses, we hope to do a special show produced by young people on issues important to them. So start putting vid kids into contact with us.

Small minds discuss people. Average minds discuss events. Great minds discuss ideas.

We look forward to your assistance in aspiring to that refreshing third level of discourse.
Be well. Raise hell.
Andrew Barbano

BarbanoMedia.com home page

Daily Sparks Tribune